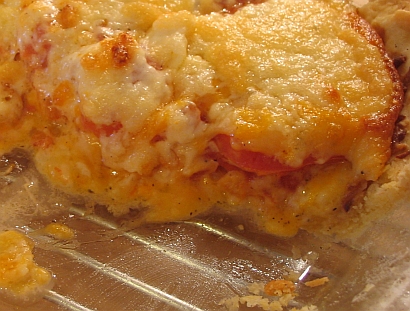 Susan's Tomato Pie
From Susan Mason's Silver Service Cookbook

Serves 6-8

9-in. pie shell,

baked

2 T Dijon mustard

4 tomatoes, peeled and sliced

Salt and freshly ground black pepper

4 oz. white cheddar cheese, grated

4 oz. cheddar cheese, grated

1/2 cup mayonnaise

1/3 cup freshly grated Parmesan cheese
Preheat the oven to 350 degrees F.

Spread the pie shell with Dijon mustard. Layer the sliced tomatoes, salt and pepper, and cheddar cheeses in the pie shell, ending with the cheese. Mix together the mayonnaise and Parmesan cheese in a small bowl. Spread on top of the pie. Bake for about 20 minutes, until bubbly. Let cool. Serve at room temperature.

Three things to keep in mind when making this recipe:
#1 - You must bake the pie crust first. I baked mine in a 400 degree oven for 10 minutes and let it cool.
#2 - You must peel the tomatoes before slicing unless you like lots of tedious work (how did I know this, pray tell?).

#3 - This is supposed to be eaten at room temperature. We didn't wait quite that long, so I imagine our slices weren't as pretty as they could've been. Still, yum!