The Sun-Maid (Raisin) Company came out with a FAB-O raisin oatmeal cookie recipe that I tried with ww soft pastry flour. It was SO good! These cookies adapted well to the pastry flour and I added Craisins to mine, as well. The Craisins are a bit zippier than plain raisins, but I like the plain raisins, too. So I did half and half. I doubled the recipe so we'd have plenty of cookies for awhile.

If you use ww pastry flour and you grind it fresh the day you're making the cookies, use heaping cups rather than level. The air in the flour will make it appear that there's more there than really is. I do this pretty much as a standard: heaping when freshly ground, level when older than a day (I store my flour in the freezer when not using what's left after grinding).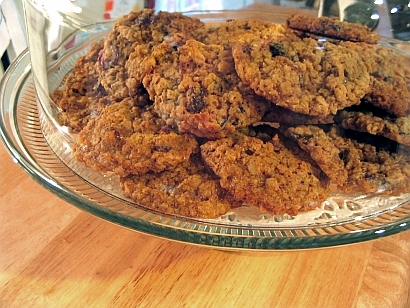 Raisin Oatmeal Classics My Way

1&1/2 cups butter, softened
2 cups brown sugar, packed
1 cup white sugar
1/2 cup milk
2 large eggs
2 tsp. vanilla
2 cups ww soft pastry flour
2 tsp. ground cinnamon
1 tsp. baking soda
1/2 tsp. salt
6 cups old-fashioned oats (aka "rolled oats"; quick oats can also be used)
1 cup raisins
1 cup Craisins (dried, sweetened cranberries)
1 cup walnuts, chopped (optional)

Heat oven to 350 degrees.

In a large bowl (I use the Bosch mixer), beat together butter, sugars, milk, eggs and vanilla until light and fluffy.

In a separate bowl, combine flour, cinnamon, baking soda and salt. Add to the butter mixture and mix well.

Stir in oats, raisins, Craisins and chopped walnuts (optional). Drop by tablespoonfuls (I use my smallest cookie scoop) onto greased cookie sheets (or you can cover them with parchment paper which can be re-used with each batch if you like).

Bake 12-15 minutes. Remove from cookie sheets to cool on wire racks. Makes approx. 6 dozen, maybe more.