Mom's Shrimp Gumbo
I got this great recipe from my mother-in-law. We love it. Make a batch of rice to go with this.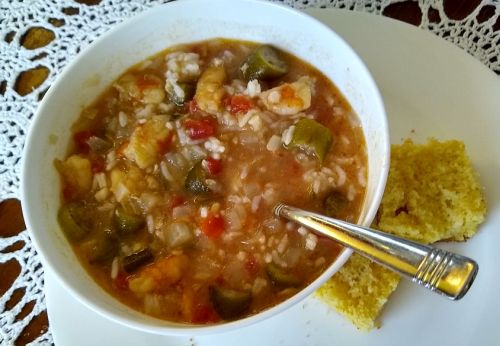 1/2 cup oil
1/2 cup flour (sifted)
1 lb. shrimp, peeled, deveined, chopped in 1/2" pieces
3 cups okra (can be from frozen)
2 onions, chopped
2 T oil
1 14-oz can diced tomatoes
6 cups water
2 bay leaves
Garlic, to taste (I add 2 cloves , minced, with the onions and okra)
1 T salt
1 can crab meat
Begin by making a roux: In a skillet, heat oil; add flour, stirring constantly over medium heat with a whisk or fork until it gets to a nice caramel color. Watch carefully not to let it get too dark or it will burn and you'll have to start over. Adjust heat as necessary.
Make sure to pat dry the shrimp before cooking to avoid splattering. Add shrimp to the roux. Cook until the shrimp begin to turn pink. Remove from heat and set aside.
In a soup pot (Dutch oven), heat 2 T oil; add okra, onion, and garlic. Cook till tender. Add water, diced tomatoes, bay leaves, and salt. Stir and add roux and shrimp.
Cook on low heat for 15 minutes (at this point you could put it into a crock pot and heat on low all day till dinner and add the crab 15 minutes before serving.). Add crab meat. Simmer 15 more minutes. Serve in bowls over rice.