This recipe was adapted from Marcia Adams' New Recipes from Quilt Country. A lovely cookie!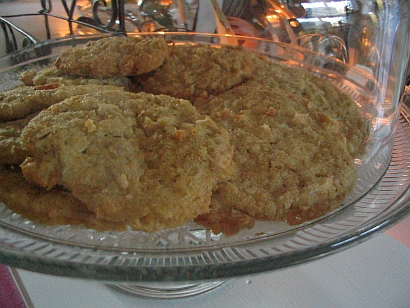 Coconut Crisps

1 cup (2 sticks) butter, at room temperature
1 cup sugar
1 egg
1 tsp. vanilla extract
1 tsp. almond extract
2 cups all-purpose flour
1/2 tsp. baking soda
1/2 tsp. salt
2 cups flaked coconut
Additional sugar, for sprinkling

Preheat the oven to 350 degrees F. (The cookbook recommends 325 degrees, but I found that the lower temp. wasn't enough to bake them for the time specified.) In a mixer bowl, beat together the butter slightly and gradually add the sugar. Add the egg and extracts; combine. In a mixing bowl, whisk together the flour, baking soda, and salt, then add to the egg mixture, combining thoroughly. Add the coconut and mix well.

Using a 1&1/2-inch cookie scoop or by heaping tablespoon, drop the dough onto a greased or parchment-covered baking sheet. Sprinkle each cookie with additional sugar, then using the bottom of a sugar-coated drinking glass, press the cookie lightly to about 3/8 inch thickness. (They will rise slightly during baking.) Bake for 12-15 minutes and do not allow them to brown. Remove to a rack to cool and store in a tightly covered tin or freeze.