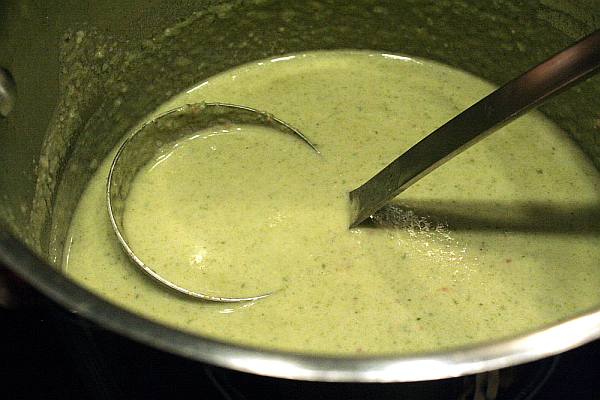 Cauliflower, Cheese, and Spinach Soup My Way

1 head cauliflower, cut into small pieces
4 cups chicken broth
4 cups water
1/2 cup red onion, minced
5 oz. fresh baby spinach
1/4 tsp. cayenne (very spicy, you can add less)
1 tsp. salt (or to taste)
1/2 tsp. salt-free Spike (or other all-purpose seasoning mix)
1/4 tsp. freshly grated pepper
4-6 cloves garlic, crushed
3 cups shredded smoky Gouda cheese
1 cup heavy cream
1 cup bacon bits, divided

In a soup pot put chicken broth, water, and cauliflower. Bring to a boil and cook until cauliflower is very tender, about 15-20 minutes or so. Add red onion, baby spinach, cayenne, salt, all-purpose seasoning, pepper and garlic.

With a stick blender or in a regular blender, puree the soup. Return to the pot if using a regular blender. Cook about 15 minutes more.

Slowly add the cheese in handfuls. Gouda is a soft cheese and will melt quickly.

Add cream and 1/2 cup of bacon bits. Blend with the stick blender or return to the blender. Blend until it starts to thicken a bit. The cream will thicken the soup up beautifully.

Pour back into pot and add the rest of the bacon bits. Warm another 5 minutes and serve. Enjoy!