20 Pie Crusts for the Freezer

I found this recipe on the 30-Day Gourmet recipe boards one day and altered it a bit. The bread flour alteration actually happened because I had run out of all-purpose flour and felt a bit adventurous. It turned out I liked it even better with the addition of the bread flour. It gave the crusts a bit of a rise. Not much. Just a tad. I use my Bosch and find it helps tremendously with big jobs like this.

The Recipe:
3 lb can Crisco vegetable shortening (I use Butter-Flavored Crisco)
5 lb all-purpose flour (I sub. 1-2# of the a/p flour with white bread flour)
3 cups ice water
2 Tbsp. salt

Mix in a very large bowl or pan (I use my Bosch with the dough hook).
Blend flour, salt, and Crisco together (by hand if necessary).
Add ice water and mix all together just until blended.
Form into patties weighing approx. 7.6 oz. each (if you have a scale and want to get 20 out of the recipe).

Makes about 18 to 20.


Flash freeze on cookie sheets, then pop into Ziploc bags.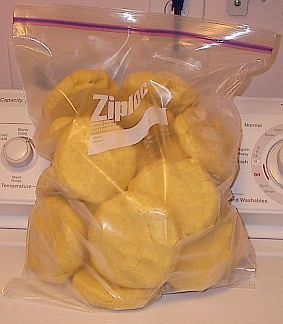 These will keep for about 1 year in the freezer.

When you want to make a pie crust, defrost desired number of crust "patties" on the counter 30 minutes or so ahead of time, or in the fridge overnight.

Roll between 2 sheets of waxed paper or put a thin sock with the toe cut out over your rolling pin and roll out on a thin towel with a little flour to prevent sticking.

Walking you through it...
My Bosch bowl just holds all the dough.
First, I add the Butter-flavored Crisco and use the dough hook.

Then while blending the Crisco, I add the salt.

I then begin adding a little flour at a time while still blending the Crisco, being careful not to add too much flour or POOF! it's in my face.

Then I alternate between adding flour and ice water till it's all in.

Then I blend a minute or so longer and it's done!

Then I dump the dough out on the counter and get my scale, grab handfuls of dough and weigh them out till I have approx. 7.6 oz. per blob of dough.

I put each blob aside until I have all the dough weighed.

Then I flatten them on greased cookie sheets, as you can see, and freeze them overnight (flash freeze).

Then I put them in a couple of Ziploc freezer bags. And they are there when I need them.


Here is the breakdown on making this pie crust recipe:

$2.98 3-lb. Butter-flavored Crisco
+$1.00 5-lb. Flour (guesstimate - I think I paid less at Sam's Club)
+$ .05 2 T Salt (guessing)
$4.03 for 20 pie crusts

$4.03 /20 = $ .2015 per crust or 20 cents per crust.

I priced pie crusts in the refrigerated section.

At my local Walmart, Pillsbury crusts (2 per pkg.) cost $2.17,
so that's $1.08 per crust. WalMart's store brand (pkg. of 2) costs $1.73,
so that's $.87 per crust.

Homemade (20 made all in one day and frozen) $4.03
WalMart brand (20 over time) $17.40
Pillsbury (20 bought over time) $21.60

Worth the effort to make them yourself, I'd say!

Recipes to use up all those pie crusts:

Country Chicken Pot Pies
(makes 2 pies)

1 cup chopped onion
1 cup chopped celery
1 cup chopped carrot
1/3 cup butter or margarine
1/2 cup all-purpose flour, sifted
2 cups chicken broth
1 cup half & half or evaporated milk
2 cups chicken, cooked, chopped
1 cup frozen peas, thawed
1&1/2 tsp. salt
1/2 tsp. pepper
4 unbaked pie crusts

Preheat oven to 375 degrees. Prepare crusts. Roll them out and place the bottom crusts in the pie plates and set aside the top crusts until ready to cover.

Saute the first 3 ingredients in butter in a big skillet over medium heat until tender. Add flour; stir until smooth. Cook 1 minute, stirring constantly. Add chicken broth and half & half/evap. milk; cook, stirring constantly, until thickened and bubbly. Stir in chicken, peas, salt, and pepper. Cool before pouring into pie crusts. VERY important.

Pour into bottom crusts and cover with top crusts. Fold edges under and crimp. Poke slits in the top (I like to make a nice pattern.).

Bake, uncovered, for 30 minutes, then cover with foil and bake 30 more minutes. Or you can use a pie crust shield on each one (found at places like Linens & Things) and they can bake uncovered for the full hour.

Remove from oven and let rest for 10 minutes before cutting. Serves 16.

An alternative to making 2 pies is to make one and freeze the other half of the filling in a Ziploc bag for another time. Freezes very well separately or fully prepared in the crust.


Classic Quiche
Needed: 1 pie crust
Thaw pie crust. Preheat oven to 425 degrees. Roll crust out on floured surface. Place in pie dish and crimp edges. Set aside.
FILLING:
6 slices bacon
3 lg. eggs (or egg substitute)
1 C half & half or light cream
1/8 t. nutmeg
1&1/2 C Swiss cheese, grated (about 6 oz.)
In skillet, over med. heat, cook bacon 5-6 min. until crisp. Drain and set aside. In sm. bowl, beat eggs, half & half, and nutmeg well. Set aside. Crumble bacon over bottom of pie crust. Sprinkle cheese on top of bacon. Set into oven and carefully pour egg mixture onto cheese. Bake for 15 min. Reduce temp. to 350 degrees and bake 10-15 minutes longer until golden brown and knife inserted into center comes out clean. Let stand 10 minutes before cutting. Serve immediately. Makes 8 servings.
Shrimp Quiche
Makes 12 tart-size or 1 regular quiche
12 tart shells (equivalent of 1 & 1/2 pie crust "blobs" - shown above) or 1 pie shell
3/4 C shrimp, canned or fresh (cooked)
1/4 C green onion, sliced
4 oz. Swiss cheese, shredded ( 1 cup)
1/2 C mayo
2 eggs
1/3 C. milk
1/4 t. salt
1/4 t. dried dill weed

Prepare tart shells or pie shell. Bake for 10-15 minutes at 450 degrees. Set aside to cool. Reduce oven temperature to 400 degrees.
Put shell(s) on cookie sheet to avoid a mess later. Fill shell(s) with shrimp, green onion, and cheese alternately. Beat remaining ingredients together. Pour into shell(s). Bake for 15-20 minutes. If doing the regular pie, reduce heat to 350 degrees after the first 15 minutes and bake 15 minutes longer, or until firm. Let rest for 10 minutes. Serve.
Blueberry Cream Cheese Pie
(serves 12-16)

1 (8 oz.) pkg. cream cheese
1 pint heavy whipping cream
2 cups powdered sugar
1 can blueberry filling
1 cup pecans, ground
1 tsp. vanilla
2 unbaked pie crusts

Preheated oven to 400 degrees.

Sprinkle pecans evenly in both pie crusts and bake for 8 minutes. Remove and cool completely before filling. You're done with the oven.

Soften cream cheese and add powdered sugar. Add cream and beat briskly until soft peaks form. Add vanilla. Divide cream mixture evenly into pie crusts. Refrigerate for several hours. Spoon blueberry filling over tops of pies. Serve. Freezes well for several months.

back to home
back to Kim's Kitchen