14 Karat Cake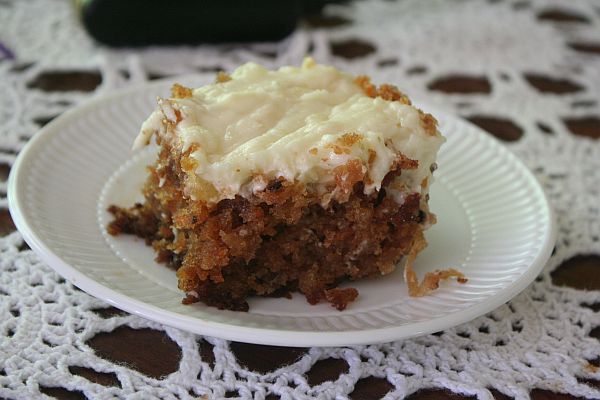 2 cups flour
2 tsp baking powder
1&1/2 tsp baking soda
1 tsp salt
2 tsp cinnamon
4 eggs
2 cups sugar
1&1/2 cups oil
2 cups carrots, grated
15 oz can crushed pineapple, drained and divided
1/2 cup chopped walnuts
2.5 oz. sweetened, shredded coconut

Preheat oven to 350°.
Sift together flour, baking powder, baking soda, salt and cinnamon. Set aside. Beat eggs and add sugar. Stir in oil, carrots, drained pineapple, walnuts and coconut. Add to dry ingredients and gently mix.
Pour into two ungreased 9" cake pans, or one ungreased 9x13" baking dish. Bake for 35-40 minutes for the 9" cake pans and 45-55 minutes for the 9x13" dish. Test center with a toothpick for doneness. It should come out clean.
Cool in pan(s) for 10 minutes, then turn out (if using the 9" pans) onto wire racks to cool completely. If using a 9x13" baking dish, leave in and frost the top.
Pineapple Cream Cheese Frosting
1 stick butter, softened
8 oz package cream cheese, softened
1 tsp vanilla
1 lb powdered sugar, sifted
Milk to thin
7 oz. crushed pineapple (optional)

Cream together butter and cream cheese, and gradually add powdered sugar. Beat for 5 minutes on high. Add crushed pineapple (optional) and vanilla. If too thick, thin with milk to spreading consistency. Frost cake and enjoy!