Strawberry plants, Mexican Evening Primroses, etc. ready to plant

Hosta (can't remember which kind)

Part of the thornless blackberry row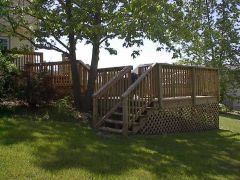 Deck - 1st level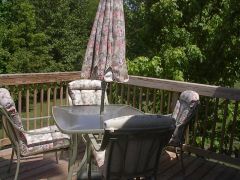 Deck - 4th level

Sweet Gum tree I pulled from a flower bed in another part of the yard and transplanted last year. A messy, but lovely tree when it gets bigger. I have a very large SG tree in my front yard that was this size when I planted it. In 5+ years it's grown to reach above the roof of the house!

Our valiant watch doggies. Boo-Boo, left, (passed away in 2006 at age 17&1/2). Scotty, right, (passed away in 2009 at age 17).

Fourth of July climbing rose (lovely scent!)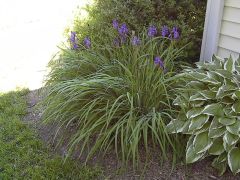 Iris reticulata Bought a clump of these at a yard sale years ago. Now I have a lot of clumps!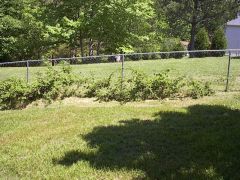 Rest of the blackberry row

Deck - 3rd level

Bleeding Heart (after blooming) near lowest level of the deck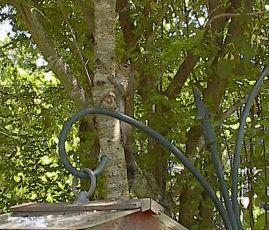 Can you see one of our daily visitors in this pic? I surprised him while walking past one of our bird feeders. He was not very afraid of me.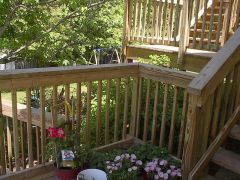 Deck pic - 2nd level

Close-up of iris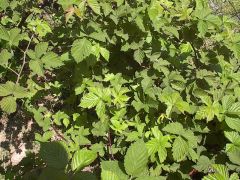 Close-up of blackberries before flowering - a friend gave these to me several years ago. Very easy to grow.

Looking onto deck level 3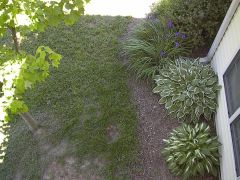 View from top of deck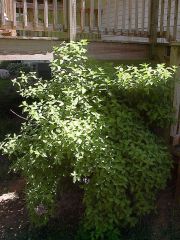 Hydrangea paniculata 'Grandiflora' before blooming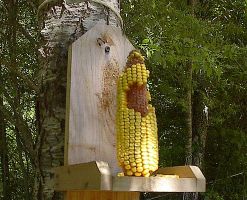 Where our visitor should be eating.